Frajeana: Queen of the Star Pirates
Introduction
( Oh heck, just Skip this Intro Stuff... Go directly to the CARTOONS! )
Many years ago, when I was young and charming, I worked my way through occupational therapy school as an artist's model. My boyfriend at the time, Richard Becker, was an artist who specialized in fantasy/sci-fi. He paid a special tribute to me by creating Frajeana, Queen of the Star Pirates. I'm just blown away by how cool it is to be a Space Pirate and run around in a leotard and riding boots, carrying a blaster!
I was Richard's model for a whole series of Frajeana cartoon strips. And they actually were published, in off-beat paper comic books of the day such as Escape Velocity Comics where an image I had modeled for was used on the cover of Issue #1: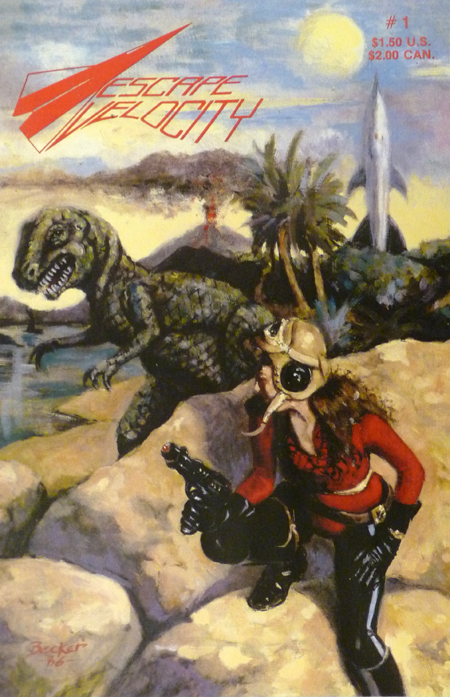 In many of the strips I'm accompanied by a resourceful and intelligent rodent crew member Ratagascar, who Richard drew without using a model.
Richard still is a free-lance commercial artist active in the San Francisco Bay area. His work has covered everything from business cards to murals. In the early 1980s he worked for Chaosium Games, doing covers and interior art for their games. Richard has taught art classes in San Mateo and at the Palo Alto Cultural Center.
Fortunately, Richard and I have remained friends, and he graciously has allowed me to display here a set of cartoons that I modeled for.
Well, now that you are prepared,
it's time to fasten seat belts
and take a look
at those
CARTOONS.